The digital twin – Automation of your after-sales process
Digital twins are the 3D digital representatives of real objects that contain every detail about their behavior, appearance and interaction over time. Digital twins for machine tools and production systems can be used to simulate processes and test scenarios for complex machines. They also enable predictive maintenance and optimization of equipment during its life cycle.


How does the digital twin work?
With the digital twin, you can map the entire life cycle of your product digitally and offer it worldwide through a web portal. This makes product data accessible to all stakeholders and helps you to save time and minimize risks throughout the lifecycle.
A digital twin fundamentally changes the lifecycle and service effort. Manufacturers, service partners and dealers can access all information through the TEF-portal. This includes all documents, the current status of their product or even communication with contributors. In addition, sensors could be integrated into their product environment so that users can integrate and analyze measured values from them using appropriate interfaces.


The digital twin learns!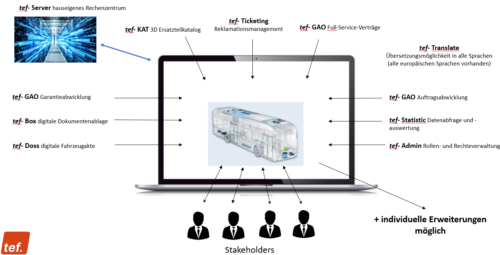 This creates a common basis for correcting an error or processing a customer inquiry. For example, the information from the digital twin can be ideally used in customer support. A recurring error that leads to a failure can flow into a central knowledge database with its solution and is thus resolved more quickly by service employees and developers. This reduces the possibility of failure over time, making your product more effective and robust.
The next logical step is to share this data and the knowledge gained from it with dealers and partners on a platform. This increases the value of your own service and may even make it possible in the long term to realize an additional paid premium customer service.
Manufacturers can thus create a marketplace for data that not only processes the data of their own products. If customers and their dealers are willing to share their product data, a store of knowledge is created that offers advantages for all parties involved.

What are the advantages of the digital Twin?
Display & store
With the digital twin, you can digitally map the entire lifecycle of your machines in 3D and store them in one place.
Multiple Integrations
Support of spare parts orders, warranty claims, recalls or technician training, etc. between all parties is facilitated.
Cloud-Portal
Manufacturers, service partners and customers can access all documents about the current status of their machines or parts supply.
Live Data
Once the sensor technology has been integrated into their product, users can provide measured values from it via appropriate interfaces.
Flexible Analysis
Intelligent tools enable accurate assessment of quality issues & process improvements.
Increased customer satisfaction
The precise view of their own product helps manufacturers to process customer inquiries and complaints faster & more efficiently.
The result is satisfied customers and first-class service, which is becoming increasingly important for differentiation in the market.

Torsten Gross, TEF-Dokumentation CEO